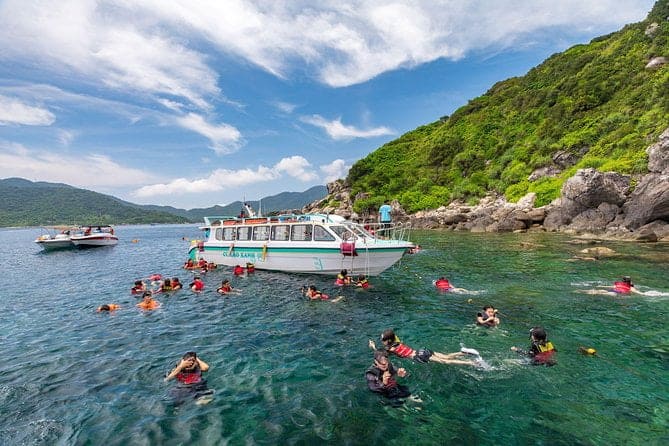 A Trip to Cham Island 201
Cham Island – Hoi An, Vietnam
 If you are an avid traveler and enjoy experiencing, Cham Island is definitely a non-skippable destination.
Cham Island in Hoi An expresses travelers by its primitive charming, peace, and breathtaking nature.
If you still don't figure out how beautiful, interesting and attractive Cham Island is, here are some of suggested places in Cham Island.
Cham Island
Where is Cham Island located and how far does it take from Hoi An town ?
It is a group of island located in Tan Hiep town which takes 20 km drive from Hoi An and 40 km from Da Nang.
Cham Island shows its attraction by new space for traveling. Being located in popular area for traveling Da Nang- Hoi An – Cua Dai- My Son , this island still remains its primitive natural beauty. Thus, a lot of visitors keep curiosity about where to do entertain in Cham Island when they take a family tour to this destination.
The perfect time highly recommended is in summer from April to august in year.One day in Cham Island is enough for you to create unforgettable memory in this island.
Experience on self-planned tour to Cham Island
This place is eligible for tourists who are in favour of leisure travel in Summer.You had better come to Quang Nam province at night and rest in Hoi An to take high speed canoe at 8 a.m to reach Cham Island.
For self- planned tour to Cham Island for leisure, you are advised to take night itinerary to have experience the peaceful moment of the island , particularly on high speed canoe
Homestay in Cham Island
Apart from homestays/hostels in Hoi An, if you choose to shelter overnight on this island, check out homestay list below
1 Tam Hien homestay
Address: Bai Ong Hamlet, Tan Hiep Commune, Hoi An Town, Quang Nam Province
Phone number: 0903588353
2 Bai Huong homestay
Address: Bai Huong Hamlet, Tan Hiep Commune, Hoi An Town, Quang Nam Province
Phone number: 0988030988
3 Trang Vu homestay
Address: Bai Ong Hamlet, Tan Hiep Commune  Hoi An Town, Quang Nam Province
Phone number: 0976605750
4 Trường Kiếp
Address: Bai Lang Hamlet, Tan Hiep Commune, Hoi An, Quang Nam
Phone number: 0935403669
5 Hammock
Address: Bai Lang Hamlet, Tan Hiep Commune, Hoi An, Quang Nam
Phone number: 0976605750
Where to do entertain in Cham Island
Seft-planned departure itinerary to Cham Island
Reaching Cua Dai port at 7:30 a.m to buy canoe ticket or wooden train to reach the island
Canoe ticket price to Cham Island in 2019:
450.000/person to go back in the day
The price includes visiting a ticket for 70.000/person and ecological fee in Cham Island 20.000/ person.
Wooden train ticket price to Cham Island 2019 :
80.000/per person/trip
After checking in Cham Island, your first activity is diving for coral seeing.Experience picturesque views.
Price for coral seeing at 7-8m depth with a oxygen tank is 80.000/person.
After diving if you are interested in parasailing, you can contact the owner of the diving boat or the owner of the hostel.Price 700k/person.
1. Canoe to Cham Island
Experiencing the feeling of sitting on high speed canoe,trembling when canoe swerves, getting scared on huge waves and released when reaching the port.Cham Island tour gives you incredibly amazing experience.
On the turnback itinerary, have a go on wooden train for cargo to see how hard and isolated of villagers are and enjoy the fond moment on the beach.
You would be surprised at the colour of the beach changing from jade, dark green to green during the trip to reach the land
2. Sea Bathing
There are 7 breathtaking beaches in Cham Island, remaining its primitive charming .Each has 100 -700m length and 20m width so you have various choices to have a bath or take a photo.Especially, beaches here always keep clear thanks to local people and authority.They have a big concern about environment and say no to nylon bags as well as stop throwing waste to protect environment
3. Camping
Apart from sheltering in homestays, travellers also choose to camp in beautiful beaches
To using supportive services, you can camp in Bai Ong, Bai Huong or if you are keen on an open space and isolated from locals, here are some suggestions
Bai Ong in Cham Island is considered as one of the most well known beaches in Cham Island which attracts most visitors with the most growing services .Many tours come here to have lunch and rest.It is impressive by stretches of long white sandbank, crystal-clean water and many rows of coconut trees.
Bai Xep in Cham Island shows its perfect choice for tourists.Tourists would experience dive to see colourful corals waving the course.It is really suitable for those who get into free discovering.
Extra free for boat hiring is included and you have to pay 200.000 for sea guard to comfortably play 
4. Diving to coral seeing in Cham Island
Almost tours to Cham Island involve in diving activity to see corals.You can book at any travel agents in Da Nang or ask for help from hotels you are staying. if you go by yourself, you can buy tickets right at the pier.It costs 250.000/person including sufficiently instructor, life – jacket, swimming goggles, snorkel and boat to drive tourists to diving area.
5. Walking along the island
It would be mistake if you came her without going sightseeing along the island.Renting a motorbike is highly recommended.Cham Island covers with spectacular landscapes so please note this to enjoy the entire stunning views here.
On the way riding, you could have a stop to ẹnjoy the natural beauty or take photo to keep as memory or even make the most of special things on the way.
6. Visiting small islands on boat
There are even 7 small islands around Hon Lao.Thus, if you have time, you can rent a boat to reach those islands.Each boat costs 600.000 for a morning or an evening.
Maximum people on each boat could be 10.Gathering groups is a perfect option to save on  expenses if you go with a few people..You can also visit Hon Ba, Dao Yen, diving for seeing coral reef. ( Renting wetsuit cost is not included )
Renting wetsuit is unnecessary if you can swim or safe yourself.You can swim in Bai Bim if you come back not too late.Another option is that you can rent boat to visit Dao Yen privately with the price at 300.000/boat.
7. Stargazing in Cham Island
Cham Island still remains its pristine, so there are not much services or artificial light.Sandbank is an ideal place to stargaze.Listening to the lapping of the waves and talk to each other.It might be the most romantic leisure pursuit of this trip when you accompany with your lover
8 Going fishing in Cham Island
You can rent tourist boat from fishman provided with tools and fishworm.
With the dedicated instruction of boat owner you not only satisfy your interest but also amazingly go around small and big islands to ẹnoy crystal – blue water.
At night, you have chance to catch squids and enjoy food cooked from spoils you have fished.Fish is cooked soup or grilled on coal and squid can be steamed to dig with mixture of ginger and fishsouce.How delicious !
What to eat in Cham Island
1 Steamed snail The meat is crispy, sweet, and has a strange mouth flavour. a cup of ginger fish sauce is indispensable when eating steamed snails, the spicy taste of ginger and chili makes the dish simple and delicious.
2. Grilled Scallops Onions with ivory white meat, delicious, sweet taste, not very tough. When enjoying, visitors will feel the sweetness of scallop, fleshy of roasted peanuts, aromatic scent from scallions with sweet and sour sauce.
3. Grilled Beef with kitchen foil  with crispy fish skin white meat of the delicacy of the dish has fascinated many delicious dinners, I guarantee that you enjoy it .
4. Forest herb are collected and processed by the people into simple foods but rich in mountainous flavors .It can be said that this dish makes a special difference in Cham Island.
5. Banh it la gai perhaps this is my favorite dessert as well as you are interested in the list of food in
With the list of delicious food in Cham Island in the hope you will choose for yourself a satisfied dish.
Specialties as gifts
Seafood in Cham Island like Lobster, stone crab, fish, crab ..
– Dry squid, a sunny squid
– Dried pineapple
– Dried Ha Thu O
– Corn-cake
With self-sufficient travel experiences in Cham Island, Cham Island Tour. Hope you will have a fun trip to the green island of Cham Island with lots of fun!
For the past 12 years, Cham island off the coast of Hoi An City, has effectively become #Vietnam's first #plastic-… https://t.co/X2MxL74SZH
Cu Lao Cham Marine Park
947 aquatic species have also been identified in the biosphere. The
Cham
Island
Biosphere Reserve, which comprises a group of 8 coastal islands and marine