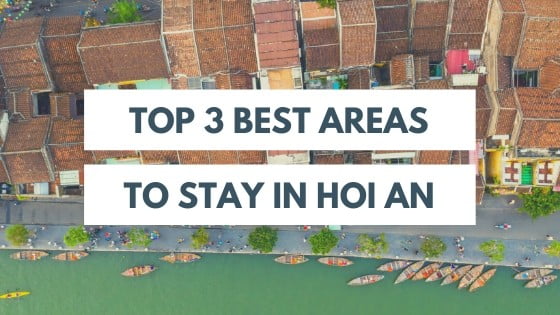 TOP 3 BEST AREAS TO STAY IN HOI AN, VIETNAM
Many of your friends or some tour guides have persuaded you to visit the magical town of Hoi An in central Vietnam. You can surf the internet to find the accommodation that fits your trip and maybe feel confused by a wide selection. You are still wondering where is the best place to stay.
However, it varies depending on what your taste of stay is. Fortunately, there are many different choices for you in Hoi An, a bustling, peaceful tourist center by the sea and a rustic rural setting. For example, there is a range of accommodation options in each area that suit every budget: family, honeymoon, backpacker, luxury, and budget.
We will offer you three main suitable areas for you to stay in Hoi An Vietnam: in The Old Town, by the Beaches, and in the paddies field countryside. Hoi An Ancient Town is quite a small tourist town and extremely well built up for tourists, so you should consider this when choosing where to stay in Hoi An. Don't be worried, whatever location you choose, nowhere is too off the beaten track. You can venture a little further to find some real gems hidden. It takes you only a 10-minute taxi ride from the Old Town to the beach. Enjoying the tranquility of the countryside along the way.
Below is our guide showing ideal accommodations to stay in Hoi An Vietnam.
There are three unique kinds of areas in Hoi An for you to decide, choose one you love the most. Many of the best accommodations in each area have called attention for you that suit your budget among countless options. 
Old Town
The reason why you should choose to stay in Old Town
Easy walking/cycling  

Shops/restaurants/heritage sites on your doorstep

No taxis required to get in and out of the Old Town 

A wonderful experience of the Old Town at many different times of the day  

Get back to your hotel easily for a nap/swim 
Most accommodation is located on the edge of the ancient town of Hoi An. Visitors can still easily walk to the ancient town of Hoi An when staying at these accommodations. Therefore, it is not necessary to take a taxi when you're here. It's easy for you to walk along the lovely roads into the pedestrian stream or simply push the cart.
You can be more amazing of how many loads of choice in Hoi An ancient town. There are many things to do and to see in this UNESCO World Heritage site: shopping, exploring, eating, and being pampered.
Things to do in Hoi An Ancient Town?
– Shop for art supplies and clothes from converted merchants, then return to your accommodation to free up your arms for an extra stroll.
 – Experience wearing clothes tailored in Hoi An, get some shut-eye then, have a massage, or take a nice bath in the hotel pool, and when you're refreshed, and full of energy, you can explore more about the ancient town.
Tips to stay in the old town:
 You should stay in one of the riverside hotels to get the best view of the Ancient Town. Nevertheless, be careful when your location is near the river area during the rainy season (October to December) because large areas of the Ancient Town are at risk of being flooded during this period. 
weather link: https://www.accuweather.com/en/vn/hoi-an/355711/weather-forecast/355711
Being in the old town, you will have the opportunity to experience it at all times of the day. Start your day by jogging around the local market in the early morning and watch the sunrise comes to town. At sunset, you'll go with your family or friends for some locally crafted beer, watch the flow of wanders and overlook the colorful lanterns floating on the river to finish the relaxing day. Then just wander back to your hotel because this location indeed allows you to chill out.
However, the number of tourists can get overwhelming in the Old Town during the peak season. If you're looking for a more peaceful and calm place, this area may not be for you. 
Luxury Accommodation in Hoi An Ancient Town
Anantara Hoi An Resort
Location: 1 Pham Hong Thai Street

Rate / Night: 3,500,000 VND (153 USD) – 9,900,000 VND (430 USD) 

94 rooms and suites designed with French, Dutch, Chinese, and Japanese influences that mimic Hoi An's cultural diversity with elegance. 

Almost 1km from Old Town and Thu Bon River.

Lovely design balcony with lush green garden view and airy river view.

Three excellent restaurants: In particular, Art Space serves an innovative arts area and a dining area. Meanwhile, the home of Hoi An's has only flavorful wood-fired pizza by the river

Restore your energy at Anantara Spa, all in a luxury atmosphere with professional staff.
Mid-Range Accommodation in Hoi An Ancient Town
Allegro Hoi An
Location: 86 Tran Hung Dao Street 

Rate/Night: 2,800,000 VND (124 USD) – 7,800,000 VND (340 USD) Book Now
A Little Boutique Lux is 0.5 km from Japanese Covered Bridge (Chua Cau) and 0.8 km from Fukien Assembly Hall (Phuc Kien) 
Allegro Hoi An is solemn, elegant, and ancient with mosaic and wooden accents welcoming you into this luxurious hotel, ranked highly by guests on TripAdvisor. 

There are five types of suites all with nice view balconies and large bathtubs. It takes you only a few minutes to walk to Hoi An's Central attractions. But, when you get off the main road, the atmosphere will be warmly quiet.

Some more incredibly awesome things, you can savor a shimmering pool with lantern-lit, the sumptuous breakfast, and deluxe treatment of their superb staff.
Lower price Accommodation in the Ancient Town
Hoi An Green Apple Hotel
Location: 36 Phan Dinh Phung, Son Phong

Rate/Night: 600,000 VND (26 USD) to 1,200,000 VND (52 USD) 

It is almost 1km from the Old Town Center to Green Apple Hotel. So, you do not spend too much time wandering to explore famous places such as the ancient Qin Ky, Japanese Covered Bridge, museums …

Green Apple Hotel owns a simple but unique architecture with the open design, creating spacious and airy rooms.

The hotel has a beautiful long outdoor pool for guests who want a dip in the day. The restaurant at the hotel is overlooking the pool. Guests can enjoy a range of local and international cuisine.
Precious pearl on the riverbank
Vinh Hung Emerald
Location: An Hoi 

Rate/Night: 1,500,000 VND (65 USD) 2,500,000 VND (108 USD) 
If you want to enjoy the combined style of the central Old Town and relaxed tropical setting, choose Vinh Hung Emerald. Vinh Hung Emerald is a mid-range hotel, but the service is certainly far better than its price. Vinh Hung Emerald's location is convenient for you because it is right at An Hoi, on the banks of the Thu Bon river, and has a peaceful setting. It takes you just over 5 minutes to walk from this tropical place to the Old Town.
Vinh Hung Emerald has both garden and river view pool. From the garden area, you can see the unspoiled beauty of a panoramic view to the river, and sit comfortably on your sun lounger to contemplate local boats wandering the river.
Vinh Hung Emerald is an ancient style resort with spacious and well-appointed rooms—all have nice balconies, and well-maintained. 
You can have your private rooftop for an even more quiet and peaceful atmosphere if you consider an upgrade to an Emerald Suite on the second floor. 
Moreover, the hotel offers you free delicious food from a little local market. Nothing is better than taking a free river cruise of your hotel into the Old Town and enjoying a wonderful meal by the water every night.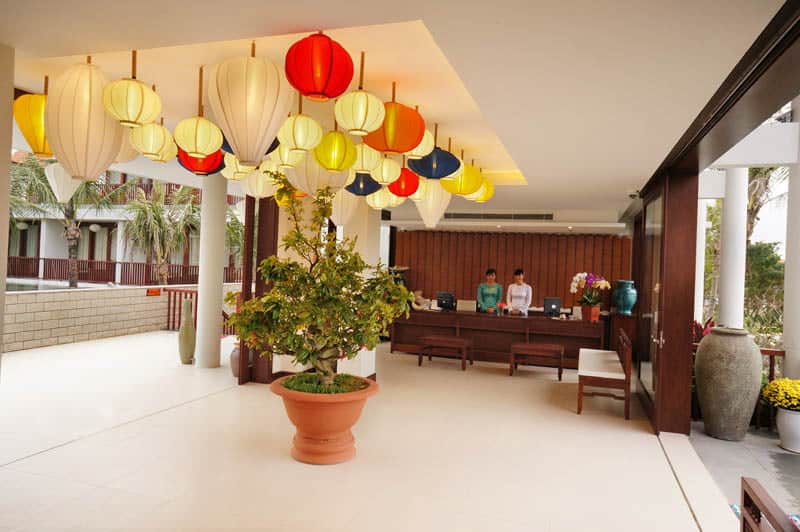 Beach resort
The reason why you should choose to stay in beach accommodations
Only 5kms from the Old Town 

Watch sunrise and sunset at the beach

Enjoy the cool and fresh air on the coast

Escape the hustle of the Old Town
The golden sand, culture, history, and unique cuisine will give you the most feeling of relaxing when staying on the beach in Hoi An. It takes only 5 km from the Old Town to the beaches, so try to spend your morning walking along with fresh sea air, explore the town in the afternoon, go for some drinks and have a chilling dinner in beach restaurants and bars nearby. 
Why don't you try sleeping by the sea to hear the sound of the waves and all the quiet backdrop? Feeling the shimmering sunlight reflected in the water when you wake up is a good idea. Then the hustle and bustle of life in the Old Town will be broke up. The sea breeze is extremely pleasant and the scenery is wonderful during the hotter months (June to August). Therefore, it is an ultimate drawcard to stay at that time.
Hoi An Beach is home to many large luxury resorts with beautiful ocean views. Their fresh seafood dishes at the local restaurants is a must-try thing. All wild seafood is caught nearby.
Besides, you can rent a bicycle to go to the Old Town or take a free regular shuttle getting there.
Important things to consider are the food and spa. You can drink a tropical fruit smoothie, read a book in a sun lounger, massage in the hotel's spa, and then stroll on the beach and listen to music.
Tips: You should experience the feeling of walking on the beach in the morning for clearer sea waters and less crowded sands.
Going to the Old Town from the Beach
You'll need to plan your day well before going to the Old Town from the Beach. It is at least 5 km away from the Beach to some tourist attractions such as the historic houses and museums, so you should be aware to not forget something or need to go back to your hotel to rest.
Transportation to get into the Old Town
Take a taxi (Grab Hoi An): to get back to your accommodation from the sights

 Rent a vehicle: 
Motorbikes: around 80,000 to 100,000 VND (3.5 to 4.5 USD)
Bicycles: about 50,000 VND (2 USD). 
Free bicycles from some resorts
Note: 
Aware to bring you raincoat in case you come to Hoi An in the rainy season. This lasts from October to December
In the summer, you should keep away from riding during the hottest hours of the day as the heat can be high.
An Bang Beach
An Bang Beach is one of the few most beautiful stretching beaches in Hoi An that cannot be damaged by development, has the most tourists, and offers the most food options. Rent a beach chair from any local beach café or order your food and drink at any nearby restaurant for free seats.
South An Bang Beach
South of An Bang is quite popular with a chilled atmosphere. Highlights of this beach are Salt Pub and Kahuna Beach Club. It is only a short walk down the beach from the main entrance of An Bang, but that makes all the difference with the number of seafarers and fresh air.
Cua Dai walkways are separated from the roads in the Ancient Town of Hoi An. This 3 km long stretch of white sand is in the northeast of Hoi An to make Cua Dai Beach the perfect paradise which you are looking for. The water is very clear with tropical gentle green waves, suitable to swim and play around, then enjoy coconut water and many delicious dishes. This beach is really into you if you're staying at Victoria resort.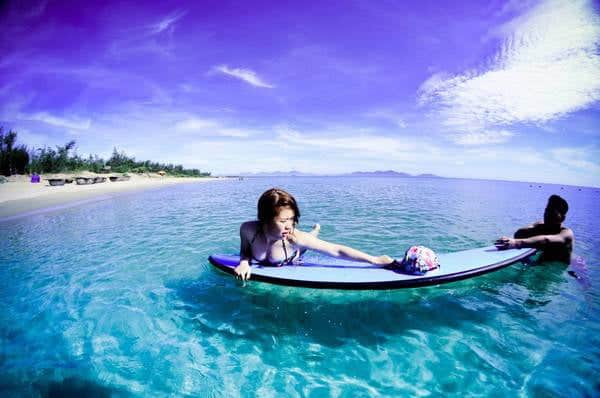 Hidden Beach
This Beach is suited to you who need your own space. There is no harassment from the souvenirs sellers asking you to buy something. Take a comfortable seat and enjoy fresh wild seafood in the Hidden Beach Restaurant. This family-run restaurant offers free parking to you also. Although Hidden Beach is located on a small stretch of the beach, it gives you a sense of peace and tranquility.
Luxury Beach Accommodation
Victoria Hoi An Beach Resort and Spa
Location: Au Co, Bien Cua Dai 

Rate/Night: 3,000,000 VND (130 USD) – 6,800,000 VND (295 USD) 
 Victoria Hoi An Beach Resort and Spa is located in a historic part of Hoi An, boasts beautiful views of the South China Sea and the Thu Bon River. The resort is set in a poetic and fresh atmosphere and a pool on the beach. Victoria Hoi An is like a colorful painting with pictures of fishing villages, winding village roads, cottages, and small fish ponds.
 Victoria Hoi An Beach Resort and Spa is the perfect combination of Japanese and French elements and traditional Vietnamese touches.
They offer a lot of services such as watersports, tennis courts, a kid club, a spa on-site with an extensive list of available treatment, a private beach, and a sidecar tour.
L'Annam restaurant serves a variety of cuisines, but Vietnamese dishes are extremely special and worth a try, you should try it when you are at Victoria Hoi An Beach Resort and Spa. The architecture of L'Annam features a luxurious and classic Indo style with a view of the sea. It is worth trying The Sunday buffet here. There is a free shuttle bus between the hotel and the Old Town regularly.
Mid-Range Beach Accommodation
The Beach Little Boutique Hotel & Spa
Location: 19 Lac Long Quan, Cua Dai, Hoian.

Rate/Night: 1,500,000 VND (65 USD) – 7,270,000 VND (316 USD) 
This boutique hotel is designed in the style of Hoi An, possesses excellent service and attentive staff, able to speak English, French, and Vietnamese. Little Beach Hoi An Boutique Hotel is a top choice in the mid-range segment. There are two private parts of the beach, beach clubs, a bar, a gymnasium, a spa, in-door restaurant and homey rooms with balcony and sea views. They have a fixed four-time-a-day shuttle service to the Old Town.
Pocket-Friendly Beach Accommodation
Under the Coconut Tree
Location: No 7 Hamlet An Bang. 

Rate/Night: 184,000 VND (8 USD) – 920,000 VND (40 USD) 
Immersing yourself in beautiful wood and bamboo structures of Under the Coconut Tree. There are two options for you at Under The Coconut Tree, one of 12 bungalows or a single bed in an outdoor hostel. The hostel bed is a classic Vietnamese style, giving you absolute relaxation. Meanwhile, the bungalow room has a comfy feeling of nature connection, beautiful lantern decoration, and a chilled atmosphere in the greenery. Enjoying the ocean at the beach nearby, then taking an outdoor shower to clean off the sand.
Rural Hoi An Accommodation
More authentic Vietnamese experience

 Laidback and tranquil

Ride through mazes of rice paddies

Watch a farmer go about their daily work

Meet the local Vietnamese people

Feeling the true essence of Vietnam away from the Old Town. Seeing the pictures of water buffaloes grazing on immense rice fields and the daily working life of local Vietnamese families for generations in this rural area. Allow you to immerse yourself in a peaceful atmosphere, take a deep breath, and relax your whole body in the immense space of the fields producing food in Hoi An. It is an accommodation far away from the majority of tourists. Most people save the rural areas of Hoi An for cycling in the morning or afternoon, but the experience of just a couple of hours is not enough to feel what the countryside holds.
Why you should Stay in the Countryside?
Staying in the countryside allows you to experience life as well as the most authentic way of life of the Vietnamese people. In particular, the Countryside is for you who loves laid back and tranquil travel experience and watching rural life go by. Because the lifestyle is so quiet, no one is bothering you and you are free to walk around the beautiful rice field like a fairy maze, watch the farmers' work and even ask them to try doing the fieldwork, and play some traditional games with local children. 
If you want high-end resort luxury towards the mid-range to budget end, this may not be the area for you. The number of restaurants and bars here is much few, it requires you to have your transport or hire a taxi to go out to eat and drink. Amazingly, many homestays offer bicycles for their guests' transportation. It's under a 15-minute bike ride from most areas to the Old Town.
It is mixed between rural lifestyles and authentic traditional Vietnamese to make the wonderful architecture of Cam Thanh. Cam Thanh maybe the most developed area in many parts of rural Hoi An. Many families of tourists have chosen to come back here many times. There are hundreds of homestays and mid-range smaller resorts offering in-house restaurants and spas between Cua Dai Beach and the center of Hoi An.
There are many things for you to experience here such as walking along the streets, stopping at a lovely cafe or local eateries at random, visiting temples and watching the expansive rice fields. You can try sitting in one of the traditional round coconut boats and walking around the vast nipa palm forest. Experience dropping nets to catch shrimp with local fishermen and processing the caught seafood into a popular local food to enjoy right there.
There are tons of homestays and medium-sized resorts that have great indoor restaurants and spas on offer. It's only three kilometers away from each to Cua Dai Beach or the center of Hoi An. 
An My
An My is distinguished by rice fields that seem to stretch to the horizon and hospitable people. It is easy for you to get a room that is comfortable to rest as well as admire the lush scenery outside the window. However, if you want to walk to a pub, restaurant or market, it will be a bit difficult. But the closer you stay to the end of Cua Dai Road, the much busier things get.
Vegetable Village of Tra Que 
Tra Que Vegetable Village has formed long ago, surrounded by 2 rivers, so the land is extremely rich. This is a great place for you to enjoy the picturesque sunrise as well as the charming sunset with uninterrupted views. Why don't you experience walking barefoot in the fields and observing how warm-hearted farmers take good care of their herbs and vegetables. You can walk and breathe the fresh air here because there are no chemicals and pesticides used for their crops.
Accordingly, you can live in a family-owned mansion or a local homestay. You can learn the interesting daily activities of rural people here.
After a day of farm work, looking out the lovely organic vegetable garden from your room's balcony, there's nothing better than this.
Cam Kim Island
Cam Kim Island is a beautiful part of the island. However, it takes about 10 minutes to ride by ferry from the city from Hoi An.
Recently, traveling between Hoi An and Cam Kim has been much more convenient because a new bridge has been built. You will no longer find it inconvenient to take the ferry and comfortable ride through here. Because of the previous lack of access, the area has remained much more untouched wilderness than in the Old Town.
Cam Kim Island is the right place for you if you want to adventure off the beaten path. There is only one hotel listed on Booking.com, don't worry, you might need to use the old-fashioned way of physically going to Cam Kim, to find alternatives of where to stay by roaming around. But we assure you that it is worth staying here. For example, you can try eating local food at local prices from a hammock with a nice river view. After that, you can discover little temples between farm sites, or observe the wood carving workshops that Cam Kim is the most famous for.
Luxury Accommodation by the Rice Fields
Allamanda Estate
Location: Dong Na Hamlet, Cam Ha Commune. 
Rate/Night: 3,480,000 VND (151 USD) – 3,800,0000 VND (166 USD)
Each type of villas is fitted with private open-air bathrooms, suiting to couples and families. The Allamanda Estate villas provide exceptional luxury in the heart of the rice fields. Let you try taking a walk around the gardens and lotus ponds, then taking a bath in the outdoor bathtub, and indulging with massages at their spa. Professional staff and a unique rustic charm in Allamanda Estate will bring you nice peace and relaxing.
Mid-Range Accommodation in Rural Hoi An
Christina's Hoi An
Location: Tra Que Vegetable Village. 
Rate/Night: 966,000 (42 USD) – 5,750,000 VND (250 USD)
This beautiful riverside Villa complex is located right in heart of the famous Tra Que Village – a uniquely picturesque area of Hoi An, full of lush green rice paddies, vegetable gardens, and ponds. Wake up to the sunrise over the rice fields in the spacious, modern, and beautifully designed rooms of Christina's Hoi An. Raving home feel of the free breakfast (well cater for vegans also), enjoying lunch on one of the sunbeds by the pool, and ride one of the complimentary bicycles around the beautiful field then.
Low price Accommodation in Rural area of Hoi An
Rice Field Homestay
Location: 52A Le Thanh Tong, Cam Chau. 
Rate/Night: 460,000 (20 USD)
This warm and peaceful homestay is the passion of a Hoi An woman and her husband – a British ex-pat. It brings a peaceful atmosphere of Cam Chau district. You can relax with a spacious double bedroom with a private balcony. They offer delicious home-cooked breakfast and tell thousands of local secrets for you to explore in Hoi An. Rice Field Homestay guests talk about the thoughtfulness and welcoming feel of hosts Mike and Hanh a lot.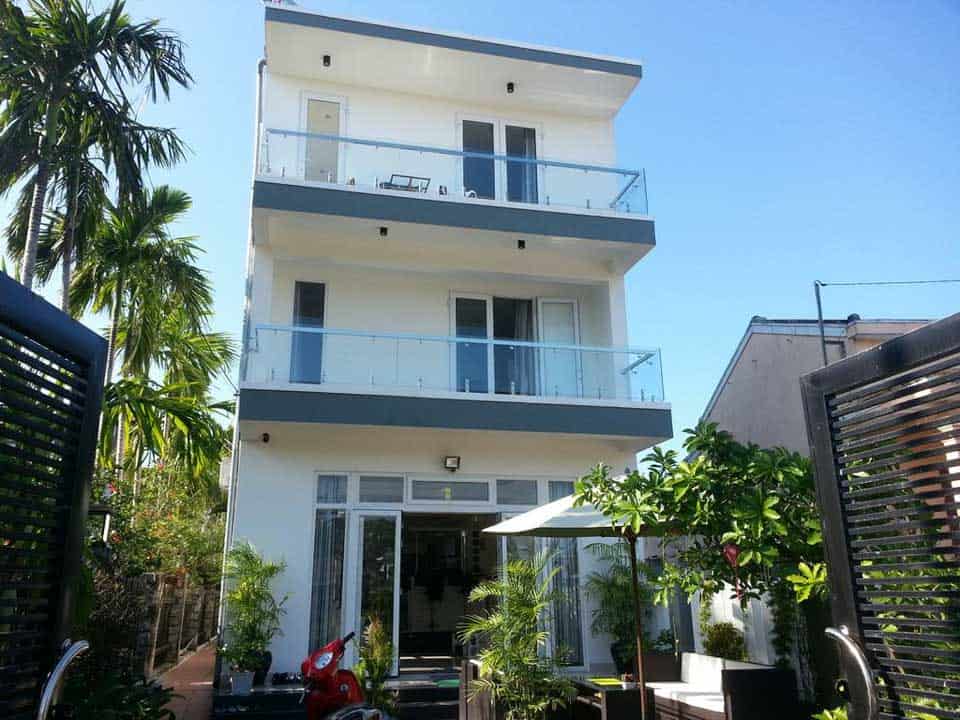 Our thoughts
There are many interesting things to experience during your journey to Hoi An. Therefore, you should stay in this old town for at least 3 days to fully immerse yourself in the magic Old Town, and experience many games and life from dawn to dusk late. But if you are lucky enough to have enough time in Hoi An, we recommend combining both forms of enjoyment and experiential tourism. Spending a few extra nights in the countryside or on the beach is a great idea to bring peace and relaxation to your soul. The beach offers a number of bigger resorts. So if you want to end your trip this way, start in the heart of Old Town, then head to the beach.
Instead, there's an equally great option to stay in the picturesque countryside of Hoi An. Sitting and watching the sunrise and sunset, the scene of farmers and herds of buffaloes in the field, it was simple but fascinating. It is also very interesting to explore Hoi An Old Town by cyclo, there is no noise of the town and the horn of vehicles.
Above all, once you decide where to stay, you should consider that with so many attractions in this beautiful city, many of the best places to stay in Hoi An have been booked quite a long time ago. Please do not wait too long to book when you have put your heart in one place. We do not want to disappoint you!